By The Glitter Queen
Wow! It's been an exciting time here at PomJoyFun.  This week multiple Grammy winning singer Christina Aguilera, also known as "Xtina", recently celebrated her 36th birthday with a blowout pink and silver party.
She chose to feature 5 jumbo silver fringe piñatas from PomJoyFun as the center attraction.  The piñatas were hung from a pulley system above the stage.  
In this video you can see Christina's fiancé Matt Rutler bashing one of the piñatas revealing toys, gifts and beautiful confetti, other guests at the party included Keeping up with the Kardashians' Kylie Jenner, The Real Housewives' Bethenny Frankel and Erika Jayne! You too can have Christina's look.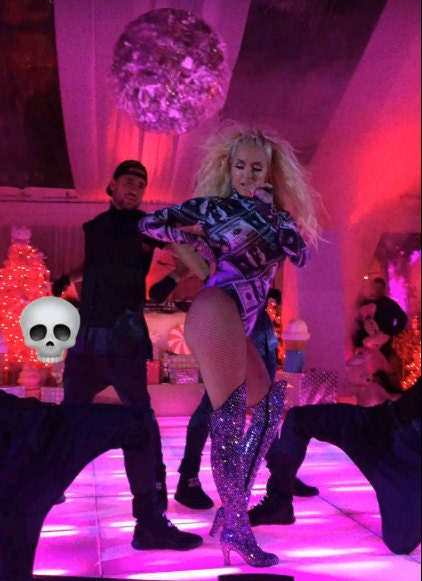 Here Erika Jane, real Housewife of Beverly Hills, performs on stage in front of one of the 5 pinatas! 
These fantastic piñatas are available in sizes from 10 to 24 inches in gold, silver, rose gold, or purple.  I can also make you a custom multi-color piñata.  These pinatas come as a regular piñata to bash with the stick as they did at Christina's party or if you would prefer, I can make these in a pull-string version.  You simply pull on the string and the bottom of the piñata falls out! When filled with confetti it rains down in a snow-like effect. Thank you Christina for choosing PomJoyFun as your party partner!
If you would like to purchase a piñata for your next party check out my website at .  
All piñatas are hand made in my studio by a team of super crafters in Portland, Oregon. I also have many other styles of piñatas to choose from.  
If you have an idea about topics you would like me to cover in future posts send an email to .  
Also, check out PomJoyFun.com's gorgeous tassel garlands, and rosettes as well as balloons,  and poms.
Follow PomJoyFun on Instagram, Twitter and Facebook for more great party tips and inspiration!