That Party Staple of Your Childhood is Still Going Strong!
By Kimberly Bart, The Glitter Queen and owner of PomJoyFun2.com
Even with all of the party decor options available today, 12" latex balloons are still amongst the most popular items for all different kinds of parties.  Today, they come in more colors than ever before!   are the stunning new trend and they are hot sellers at Pom Joy Fun.    Also popular are our combo packs of , they make such a pretty mix for a sophisticated party.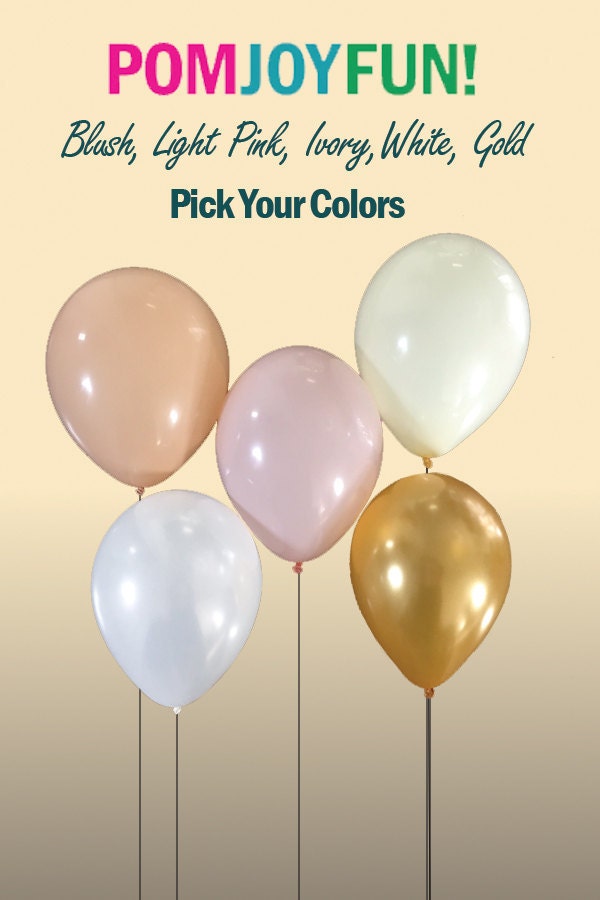 While we love our here at Pom Joy Fun, the helium can be expensive and out of reach for some budgets. With just a few simple tips you,  can make a big statement with small balloons too! Here's how:
First let's talk about helium: 
Filling 12 inch latex balloons with helium is a popular choice, but not the only one (we will get to some helium-free ideas in a future blog post).  There are three options when choosing how to fill your balloons with helium.  
1 ) The first is to take your balloons to your local party store or floral department of most grocery stores and they will fill them for a small fee. Our local store charges $1 per balloon which  is a great option if you only have a few balloons that will fit in your car for transport.
2) Your second option is to rent a helium tank from a local party supply store.  They may have a per day charge or they may just charge you for the amount of helium you use (by weight) when you return the tank (make sure a balloon filling valve is included in your rental).  This is the best option if you have a lot of balloons (more than 100)  as you bring the tank to your party's location to  fill the balloons, then return the tank after your event.  This way you don't have to figure out how to stuff all those helium filled balloons into your car, or worry about them floating off in the parking lot!
3) Another popular option for filling helium balloons is purchasing a .  These tanks will fill 40 to 50 twelve inch latex balloons.  These tanks come with a valve and instructions on how to fill the balloons.  When your tank is empty be sure to recycle it!
Regardless of how which helium source you choose, there are two tips to keep in mind:
First, we recommend you use .   is a solution that is squirted into the balloon before it is inflated it helps seal the pores in the latex balloon so that the helium will last up to 25 times longer and your balloons will float higher! Most stores that fill balloons will offer this as an option for a small extra charge- just ask!. If you are filing your own balloons, it is very easy to add the gel yourself, just squirt some in each balloon and rub around until the inside of the balloon is coated, then fill with the balloon with helium.   Second, don't over-fill your balloons!  A fully inflated 12 inch latex balloon should be oval shaped-not shaped light a light bulb!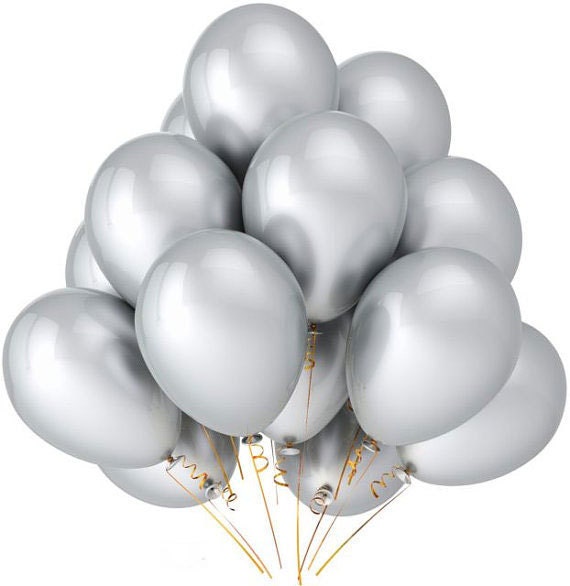 You have all your beautiful 12 inch latex balloons filled, now what?  
You need to tie them down so they don't float away!  The most basic technique is to tie several balloons together in a spray or bouquet.  For the best look choose an odd number of balloons- 5,7,11...Vary the length of the string or ribbon on each balloon so they float at different levels for a pleasing look, tie all the strings together and then tie them to a , the back of a chair, a railing or anything else that won't float away.  
Speaking of floating away, depending on the ceiling height of your room one cool idea is to attach to each of your helium balloons and let them float up to the ceiling, with all the ribbon cascading down.  You can use a single color ribbon for a dramatic effect or lots of colors for a more festive look.
I hope that you try out some of these ideas- if you do can you please send us a photo to share on social media?  And look for our next post where we will explore ways to decorate with balloons when helium isn't available, or you just don't want to use it!
If you would like to purchase balloons in your custom colors please check out my website at .  There we have unlimited variations of colors and matching decorations for a successful one of a kind party!
If you have an idea or topic you would like me to cover in future posts send me an email to .  
Follow PomJoyFun on   and for more great party tips and inspiration!
This post contains some affiliate links.  I promise to only promote products I really love, if you click through and buy something I may get a little money so I can keep bringing you fantastic new tips and ideas for your parties and celebrations!